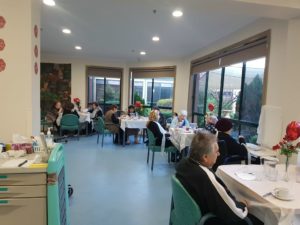 Administration for the general operation of the facility.
Maintenance of the facility and grounds.
Accommodation utilities – electricity, gas and water.
Furniture for the communal areas and other parts of the facility.
Bed linen, towels and other relevant linen.
Cleaning services and tidiness of the facility and chattels, excludes a Care Recipients personal area where they choose and are able to maintain.
Waste disposal
General laundry, the provision of heavy laundry services are contracted out, with the exception of personal laundry of clothing that can be machine washed. This excludes cleaning of clothing that requires dry cleaning or other special cleaning process, and personal laundry where a Care Recipient chooses and is able to do themselves.
Meals and refreshments, comprising of three meals per day, plus morning, afternoon tea and supper.
The provision of recreational activities on a regular basis.
The provision of emergency assistance over a 24 hour period.